Teeth Whitening With Our Cosmetic Dentist in North York Will Transform Your Smile
Cosmetic dentistry in Toronto can give you the bright and vibrant smile you've always dreamed of
A cosmetic dentist has the ability to give their patients a brand-new smile - with services like cosmetic bonding and veneers to mask and correct the appearance of a smile, as well as teeth whitening - which is one of the most highly requested services offered by our North York dentist.
Are you no stranger to a yellow or stained smile? Keep reading to learn more about the smile-transforming teeth whitening treatment options offered at Jane Street Dental!
About teeth whitening in North York
Our dental clinic in Toronto offers two ways for patients to whiten: with our in-office Zoom Laser Whitening treatment, and our take-home whitening systems.
We offer in office Zoom Laser Whitening or take-home whitening systems.
This Zoom Laser Whitening method uses a gentle and safe hydrogen-peroxide gel-activated solution to whiten the natural colour of the teeth by up to 8 shades! This process will also whiten your entire smile in just one short visit - which can take as little as 45 minutes to an hour in its entirety.
Alternatively, a patient who wishes to go the more affordable route will choose to whiten their teeth themselves at home. Our cosmetic dentist in North York happily provides custom-made, take-home whitening tray + bleaching gel kits to patients, which are also capable of enhancing a patient's tooth shade dramatically (and safely).
Some take-home whitening solutions should be worn twice a day for half an hour, and some may even require overnight wear over the course of two weeks. This will all vary depending on the patient's degree of discolouration and whitening goals.
Things to consider before your teeth whitening treatment
It's important to understand that it is common to experience some tooth sensitivity with a whitening treatment. However, this is nothing to be worried about - and can often be successfully managed in the meantime with an over-the-counter pain medication. Generally speaking, tooth sensitivity should not persist for much longer after a person has stopped bleaching.
Additionally, it's important to have realistic expectations about your teeth whitening results. While most people are very pleased with the end result of their treatment and fall in love with their new and vibrant smile, the outcome will not last forever. Touch-ups will be required every so often in order to maintain the result - however the right steps can be taken to preserve the whiteness of the teeth for as long as possible through the avoidance of certain stain-causing foods and beverages.
Ready to brighten up that smile?
We're lucky to have such safe and effective options for teeth whitening at our fingertips today. Are you ready to try it out? Or, perhaps you've whitened before and it's time for a touch up?
Whatever the case, Jane Street Dental can help! Call our cosmetic dentist in North York to schedule your teeth whitening consultation today.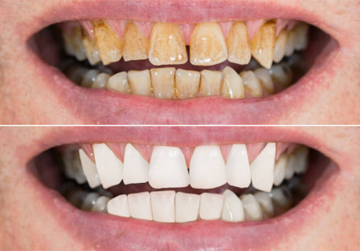 The goal of cosmetic dentistry is to improve the appearance of your teeth and smile. There are a variety of dental procedures that will help you achieve a beautiful smile.